BIO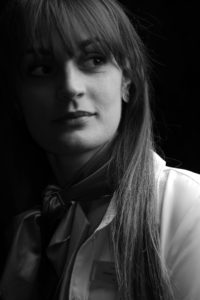 Tania Cher is an italian painter and she was born on February 18, 1991 in Gemona del Friuli (Ud). Since childhood she has always been passionate about art and painting.
She began her artistic career by attending the Giovanni Sello State Art Institute, Michelangelo course – Relief and Cataloging, earning her diploma in 2010. In the same year she moved temporarily to Venice where she continued her studies by enrolling at the Academy of Fine Arts and attending the painting course with Prof. Di Raco Carlo. Here she graduates in 2014.
Currently she continues her constant artistic research in her studio in Artegna (Ud) and also takes part in exhibitions and contest on the territory. In the last few years she is getting specialized in showcase, visual merchandising and visual communication in the retail sector.
IMPRESSUM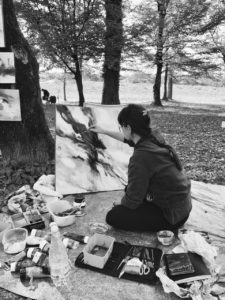 My work reproduces moments of life or pieces of soul brought on the canvas by a fury of colors that blend, collide, appear and disappear into a dance that resembles the volatility of emotions.
The inspiration comes mainly from experiences lived, landscapes, environments, emotions, indecisions, dreams but also never seen places that at the same time seem comfortable and familiar as memories that we feel have already known but do not remember. I leave these energies by creating bold, pictorial compositions. I think this is why abstract art seems so expressive to me: it is open to personal interpretation and evolution during the creative process.
The techniques I usually use are acrylic, oil, oil pastel, enamels on canvas  and other supports. The process is sudden and spontaneous, starting any work becomes an adventure, conversation evolves on the canvas between questions and answers, every sign leads to the following in a dance between brushes and painting. The solution to each piece comes to the end of a struggle to find the balance, energy, and harmony that remembers the cosmic, all of these elements.
My works are characterized by a predominant red and other warm colors that express my personality and moods and invite the audience to a personal interpretation and imagination.
EXHIBITIONS
2023
2022
Collective exhibition

, 

Lo Stella Astratto, 

Via Roma 50, Palazzolo dello Stella, UD – IT

National Award of Painting, 

Frida Kahlo, Arte Artisti, on line, Roma, IT

National Award of Painting Dantebus Bazart IV Edizione, on line, Roma, IT

Collective exhibition

, Da Eva in poi, Via Roma 50, Palazzolo dello Stella, UD – IT

Collective exhibition

, Arte donna, Gallerie Erasmo Via Erasmo 1, Guido Rossi e Via Trieste 2, Valvasone, UD – IT

Collective exhibition

, Underground, Via Roma 50, Palazzolo dello Stella, UD – IT

Collective exhibition

, Via Roma 50, Palazzolo dello Stella, UD – IT
2019
Personal exhibition, Sala consigliare Comune di Lauzacco, Pavia di Udine, UD – IT

Collective exhibition, Mini personali d'inverno, Villa Mabulton, Mortegliano, UD – IT
2018
First memorial Ennio Valent – Ex tempore – Tavagnacco, UD – IT 

4 Ex Tempore of Painting Renzo Ardito – Pineta: loved, lived…painted – Lignano Pineta, UD • Third place

17^ Show contest Incontri d'Arte biennial – Tricesimo, UD – IT • Selected work, Silver medal

Collective Exhibition, Le donne nell'arte, Lark ArtStudio di Loreta Larkina, Venice, IT

3rd Ex tempore of beauty of the most beautiful villages in Italy in FVG 2018, Venzone, UD – IT

Permanent collective exhibition, Gallery Spazio espositivo, Tavagnacco, UD – IT

Premio Arte Coseano 2018 – Coseano, UD, IT • Selected work, Section Ex Tempore

16° Ex Tempore – Natura: ti veste, ti meraviglia, ti sorprende, ti colora, ti rasserena, ti annienta, ti alimenta. – Pasian di Prato, UD

Personal exhibition  Attimi di colore, Gallery Spazio Espositivo, Tavagnacco, UD – IT

52 Ex Tempore Fontanabona, Fontanabona ancient and rural, Fontanabona, UD – IT •  Selected work

2nd Ex Tempore City Art Prize of Latisana – Colors and Nature, Latisana, UD – IT  •  4 Prize Anthea Art Gallery

Collective Exhibition Composizioni Astratte 2018 – Galleria ARTtime, Udine, UD, IT
2017
Collective Exhibition Incontri al femminile: voci, suoni, colori, storie 1^ edizione – Galleria di Arte Contemporanea Seghizzi, Gorizia, GO, IT

28th National Award for Painting Piero Della Valentina / Collective Exhibition – Cordignano, TV,  IT • Work selected by the jury

Mestre Award of Painting / Collective Exhibition – Mestre: Urban and Industrial Visions, D'E. M. Venice Art Gallery, Mestre, VE – IT • Ex-aequo  Winner, Young Prize, selected by Fondazione Bevilacqua la Masa Venezia

3rd Ex Tempore of Painting Renzo Ardito – Pineta: with the sea in the eyes, Lignano Pineta, UD – Second place

Mail Art International Exhibition – PEPERinCENTRO – Libreria Moderna/Caffè Letterario/Atelier I monili di Mu, Rieti – IT

10th Ex tempore of painting – L'acqua, la terra il cielo di Barcis  – Barcis, PN – IT

Collective Exhibition,  Abbey hall  of Santa Maria in Silvis, Sesto al Reghena, PN – IT

2nd Ex tempore of the beauty of the most beautiful villages in Italy in FVG 2017, Venzone, UD – IT

1st Collective Exhibition "Seghizzi", Gallery of Contemporary Art Seghizzi, Gorizia, GO – IT

Collective Exhibition ArtEnPleinAir & Uomo e Natura 2017, Fiumicello, UD

15th Ex Tempore Contest – Pasian di Prato: comune fiorito e prati stabili – Pasian di Prato, UD – IT

Collective Exhibition Art&Meeting, European Market FIVA Udine, UD – IT

Exhibition at the Latisana City Hall, Latisana, UD – IT

Personal exhibition  Reset_al di là della mente, Fiumicello, UD – IT

1st Ex Tempore City Art Prize of Latisana – Color and Nature / Collective Exhibition, Latisana, UD – IT  •  Third place
2016
Personal exhibition at  Villa Cecilia – Moruzzo, UD – IT
2013
Collective exhibition at Venice Art Night – SQUIBB –  Academy of Fine Arts, Venice, VE – IT
2010
Scholarship Best-sketches – Panchina Verde 2008, UD – IT  •  First Place

Ex tempore of painting – Ecco San Daniele – San Daniele, UD – IT
Dal 2009
Permanent exhibition at the Italian State Institute of Art Giovanni Sello,  Via Gorizia and Via Diaz, Udine – IT
2008
Scholarship Best-sketches – Panchina Verde 2008, UD – IT
2007
Collective exhibition/Live painting ISA Sello – Moments for monuments – Palazzo Camavito-Politi, F.A.I. SEZ UDINE, UD – IT
2005
Drawing Contest "Cai Artegna" – Me and the mountain – Artegna, UD – IT  •  Special mention

2004
Drawing Contest "Cai Artegna" – The Spring – Artegna, UD – IT  •  First place
2003
Drawing Contest "Cai Artegna" – Artegna, UD – IT